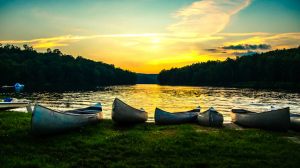 If you are looking for something fun, exciting and different to do on your next date night or a group outing with your friends, look no further than America's Finest Summer Camps' newest adventure: Farm To Camp. It is held August 26th-27th and is for adult campers 21 and up. It is a unique experience where guests can experience an eight-course gourmet meal, explore and play on the expansive Camp Starlight campground, and rest soundly in fully furnished cabins or private rooms. This "adults only" night under the stars is a great option for a romantic weekend getaway, a girl's trip or an outdoor adventure with the guys, where you can eat, sleep and play like you haven't in a while.
The incredible eight-course meal is served under the stars.  It is prepared by a highly skilled chef and is made with locally grown, organic produce, grass-fed beef and chicken, and fish caught in local lakes and streams. But before you devour your meal, you'll take part in a sophisticated lakeside wine tasting to get everyone in the mood. In the morning, enjoy a delicious brunch made with farm fresh ingredients.
You may eat like an adult, but Farm To Camp gives you the opportunity to play like a kid. Try your hand at tennis, basketball and softball during the day, dance the night away to a late night DJ or make the perfect S'more around the campfire after the sun goes down.
Do something different this summer and experience Farm To Camp at Camp Starlight.