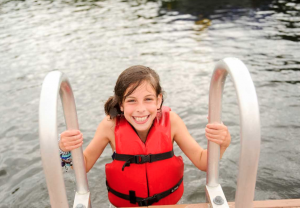 It's easy for children to think of their entire lives in the context of their "nucleus,"' their home, their community, their school, their family, their friends. They typically have no need to seek beyond their immediate surroundings, and their perspective of the world is seen through a restrictive lens based on where they live and the things they've experienced. Attending a sleepaway camp gives children and teens a way to broaden their worldview, to see themselves as a small (yet important) part of the bigger picture. America's Finest Summer Camps get campers out of their comfort zones and allow them to catch a glimpse of how much world they have to explore.
Exposure To A New Place
For campers who have lived their entire lives in the hustle and bustle of a big city are in for a shock when they step foot onto the campgrounds. For some campers, the first time they explore the wilderness or really see a constellation is at camp. Even campers from rural areas are in for a treat as they spend the summer in a place busy with people, excitement and adventure. The experience of the journey from home to camp can help campers see that there is much more to explore outside of their familiar life.
Exposure To New People
America's Finest Summer Camps bring people together from all across the globe, and is responsible for thousands of lifelong friendships. Boys and girls spend night and day with others who come from different backgrounds, cultures, religions, and experiences. Working, playing and growing together at camp allows campers to break through stereotypes and appreciate diversity in a brand new way. Some campers come from places where everyone thinks, looks and acts just like them. It's refreshing for them to see that the world is full of incredible people with so much to teach them.
Exposure To Independence
Sleepaway camps give campers the opportunity to venture out in a new place without their parents walking them through it. This experience helps campers gain a sense of independence and realize that they are strong enough, smart enough and more than capable enough to make positive decisions on their own. Giving campers this sense of freedom and independence allows them to do some self-discovery to understand further who they are and what they can contribute to the world around them. They learn things about themselves that they didn't know, and they begin to ask the questions that will help them determine who they are becoming outside of their family and friends.
Exposure To New Activities
America's Finest Summer Camps packs every day of the summer with fun and adventure. Some campers arrive never having been on a boat before, or never having access to a dance class or have never been rock climbing, but camp changes all of that. Camp is the place where so many "firsts" happen, all of which open up new windows in the brain and increase their understanding of the countless adventures and travels awaiting them. Some campers fall in love with sports they never even knew existed, which can be the first step in a lifelong passion. Campers who have the sleepaway camp experience go home with a desire to learn more about the world around them. This exposure to new things and people shifts their perspective and helps them realize that there is so much to the world than what they know.
It's important for children and teens to understand that the world doesn't actually revolve around them. They are part of something bigger, and the sooner we can ignite the excitement in discovering just what that "something" is, the better. The sooner campers can grasp the idea of a big wide world just waiting for their gifts and talents, the sooner we can develop leaders who are excited to serve, lead, love and explore the world beyond their comfort zone.