Day One Engagement
We understand that coming to a new place can be an overwhelming experience.  We have campers from all across the USA and around the world.  One thing that everyone has in common: the first day of camp is the first day for everyone!  Our staff are expertly equipped with tools to help campers feel comfortable and "belonging" the second the campers step off the bus and into our gymnasium.  For our youngest campers, our staff unpack their duffles, organize their dressers, make their beds, and get their entire areas ready upon their arrival.  Although it may not seem like a big deal, it's one less thing to provide worry or anxiety for our new campers. Night one is always "cabin night" where they will have the opportunity to participate in all sorts of different activities around camp with their cabinmates and counselors.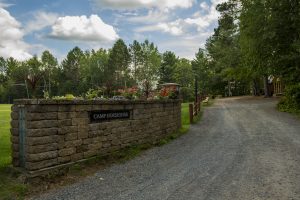 Learn their name and more!
At Horseshoe, we call everyone by their first name. Upon each encounter, we say hi to everyone followed by a fist bump. The first step to making new campers feel comfortable is getting to know, through connecting and building trust with them. When one of our counselors meets a camper for the first time, they'll introduce themselves, give them a "fist bump", tell them something about themselves, and then introduce them to someone else so they can make another new friend!  All activities for the first week start with some variation of name games and other icebreakers to help all campers feel more comfortable.
Big & Little Brothers
At the end of our first meal together, all new campers get a "big brother" who is in one of our two oldest age groups.The big/little brother system is just another way we forge and foster friendships and create comfort and familiarity throughout camp.  As soon as the the big brother meets his little brother for the first time, he takes him on a tour of camp.  The tour is important not just because they get to spend time getting to know one another, but the new camper also learns and becomes familiar with the campgrounds.  During the first week of camp, the big brother will spend significant time with his little during rest hour and other periods to help teach camp cheers and to help him integrate further into the Horseshoe community.  They also complete the swim test with their big brother during the first couple days of camp. One added bonus: they get a big/little brother pizza party during the first week too!
These are just a few of the constant ways that we are helping integrate new campers into the Horseshoe community!