American author Mitch Albom has noted, "The way you get meaning into your life is to devote yourself to loving others, devote
yourself to loving others, devote yourself to your community around you, and devote yourself to creating something that gives you purpose and meaning."  Community is a big part of camping and is a core value often emphasized through community service, peer mentoring within camp, and special programs created to help older campers maneuver through their teen years.   For many campers, the spirit of community that they learn to embrace at summer camp becomes a passion that remains with them throughout life.  A large percentage of professionals in the camping industry began their camping careers as campers whose passion for camp and community has lead them to lend their time and resources to organizations dedicated to providing opportunities for everyone to be able to attend camp.
SCOPE (Summer Camp Opportunities Provide and Edge) is one such organization.  Since 1991, SCOPE has sent more than 15,000 children from low income families to summer camp through the generous donations of individuals, corporations, and foundations that share a mutual belief in the long reaching effects of summer camp.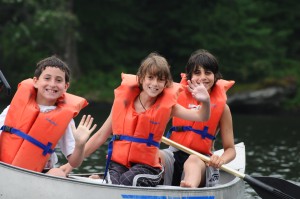 David Miller, Owner/Director of Camp Starlight in Northeastern Pennsylvania, is one such individual.  Miller will emcee the annual SCOPE benefit event, which raises money to send underprivileged children to camp, on April 6t.   Over 200 attendees are expected at this year's event.  Miller says that he and his wife Allison have always believed that it's very important to give back to the camp community.  Miller attended camp as a child.  It was there that his dream of someday owning a summer camp was formed.  It became a reality in 1999 with his purchase of Starlight, which is the summer home to 260 girls and 260 boys each summer, and has been featured in Forbes Magazine as one of the premiere summer camps in the nation.
He first became involved with SCOPE seven years ago as a member of the dinner committee.   He says that he believes, "that a summer camp experience is very important to children from all socio-economical households.  Giving underprivileged children the opportunity to leave the inner city for a portion of the summer helps in their social, physical and emotional development."  Each year, SCOPE sends 1600+ children to summer camp through corporate sponsorship, blind donations, individual contributions, and fundraising events such such as the one Miller will host.
If you're interested in providing summer camp opportunities for underprivileged children, would like to learn more about SCOPE, or would simply like to donate, please visit http://scope-ny.org/