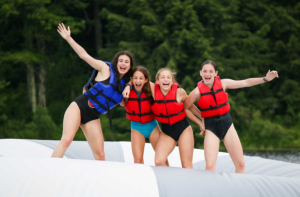 It is often stated that if you love your job then you're never really working. A smile is usually accompanied with this statement if you realize that you are one of these lucky people fortunate to earn a living by doing what they are passionate about. At, every single staff member feels this way, they all believe they have the best job at campus, trusting that their specific duty is the most fun to do. To put this to the test, a series of interviews will be held all summer asking staff from different specialties why they believe their job is the best at Camp.
Starting at the most iconic point of Camp, waterfront staff member Beth offered insight into why she has one of the best jobs on campus.
"Being on the waterfront staff is the best because I get to be on the water all day. What is not to like about the waterfront? I go find frogs some days with my campers and on others paddle board on the lake," said Beth.
Clearly enjoying the flexibility of the waterfront program, Beth notes that every single day at the waterfront can be different but it's always fun.
"Nothing is more rewarding than when the kids have never done a certain skill before and then when they learn to use the right techniques they say "WOW! I did it!" said Beth.
As a waterfront staff member, Beth is able to help campers achieve personal goals every day, whether it's successfully teaching a camper how to swim, water ski or paddleboard.
"You can tell that these kids really want to be here when they are here at the waterfront, and that's why I always want to be at the waterfront," said Beth.