Many camps claim to be the "full-package", but not many camps compare to the experience offered at Camp Laurel South. At Camp Laurel South, we combine incredible staff with excellent programming and world-class facilities, all in a family atmosphere. The four-week experience includes instruction in Athletics, Tennis, InterArts, Watersports, Outdoor Adventure and Equestrian from our expert staff who join us from across the country and around the world. In addition to programmatic diversity, campers have the chance to explore the beautiful state of Maine through both age-specific and all-camp trips. Sending a child to camp is a tremendous act of faith by parents and Camp Laurel South takes that responsibility very seriously by creating an environment that encourages both safety and health, and reinforces a positive self-image.
The unique program at Camp Laurel South gives campers the ability to develop new skills in their favorite activities. Our facilities include pristine fields and courts for all major sports, art studios for visual and performing arts, adventure courses, and a 10-horse barn; all laid on the backdrop of beautiful Crescent Lake, a virtual beehive of activity with every watersport you can imagine. Campers are able to tailor their schedule to their personal interests. Whether your child wants to play sports all day, loves to be on the waterfront, or is an aspiring artist – the program at Camp Laurel South provides campers the opportunity to explore all activities at their own pace.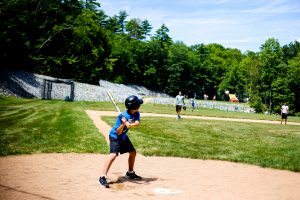 Campers at Laurel South often boast that the Directors, Roger and Dagni, seem more like parents than camp directors. That's because they create an atmosphere of warmth that they then instill into the staff during the hiring process. Each staff member goes through a rigorous application and interview process before attending a week-long Orientation. Here they have a chance to get to know the program, their responsibilities and the children they will be taking care of all summer. Roger, Dagni and the incredible staff provide each camper with an unforgettable experience filled with friendship, skill development and self-growth.
If you're looking to send your child to a ca
mp with the "full-package", take a peak at Camp Laurel South.