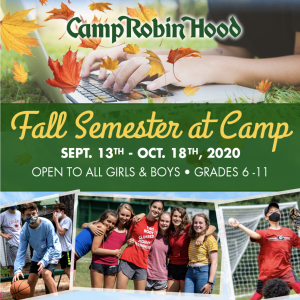 Over the years many people have joked around with us saying things like "if only camp were year-round!" and "my kids would stay all fall if they had the chance – they don't want to come home!" Well this year they might just have that opportunity. 
COVID is forcing many schools to continue remote learning this fall. With proper screening, quarantining, testing and diligence Camp Robin Hood kept our community safe in a protective bubble for summer 2020 operating for 5 full weeks with no cases. We have the opportunity to continue what we started this summer over the course of the fall in what we call Robin Hood's Semester at Camp.
If pre-teens and teens are being taught virtually this fall why not have them learn virtually from their happy place – CAMP – and not from their dining room tables? We can offer a safe space for kids, grades 6-11, to learn and also to spend time with their friends in small groups and to take advantage of all that our facility has to offer. Plus fall is the most beautiful time of the year in New England, with fall foliage creating a stunning backdrop for camp activities.
Designed for self-motivated students who thrive in an independent learning setting, the fall session will enable campers to study virtually during the day, and enjoy traditional camp experiences during the evenings and weekends – including bonfires, canoe races, sailing, tennis, and more, along with Camp Robin Hood's treasured all-camp events. Students will work independently for the majority of the day, with two optional classes offered: Art and Sports.
Program Highlights:
Instruction and work online from 9:30am – 3:30pm, Monday – Friday (or however long it takes to get their homework/camp work done!)

Daily scheduled camp activities

Special events and social time

Camp fun all weekend until class starts again on Monday morning.

Bunks staffed by our regular camp staff with a 10-1 ratio

Enhanced wifi and plenty of workspace

Camp staff will hold campers accountable for being present in class, staying on task, and completing schoolwork (but not for reviewing or enhancing the work).

Your child's school will supply the academic part of your child's experience and we will provide the social, emotional, and physical side of their experience.

All Inclusive Tuition: Accommodations, Meals, Testing, Supplies, ALL CAMP ACTIVITIES!
Want to Learn More?
Visit our Semester at Camp page or call us at 312-404-1828 to learn more about this unique opportunity of remote schooling from camp this semester!