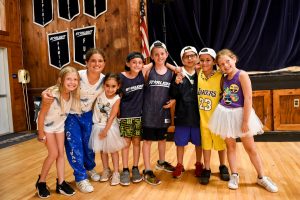 iPhone/Smartphone, iPad/Tablet, Laptop, Television, Apple Watch/Fit Bit/Smart Watch, Amazon Echo/Google Home/Apple Home Pod, Bluetooth Speaker
This list of items can be found in nearly all our campers' homes. We live in a tech-ridden world where technology is not only common, but a must to keep up with the fast-paced environment. However, at summer camp, we allow campers to remove themselves from technology and slow things down.
By eliminating technology in the bunks, America's Finest Summer Camps foster an environment that allows campers to develop relationships and grow. Without electronic distractions in the bunk such as social media and video games, our campers have real face-to-face interactions, creating bonds stronger than technology.
This is most evident on a rainy day at camp. While a rainy day may seem glum and uneventful from an outsider's perspective, campers in their bunks are anything but glum. Imaginations seem to run wild when 10 friends are stuck in a bunk together for hours. They create games, bunk traditions, or even mini business ideas in their bunk all because they were in an environment that nurtured this creativity and teamwork between campers. When the option is to create a game or play a video game, the video game is often the easy choice. When the option is creating a game or sitting on your bed, imaginations go into hyperdrive, allowing children to grow individually and with their bunkmates.
America's Finest Summer Camps do understand the value of technology, however, which is why many of our member camps incorporate technology into their daily program with activities like coding, digital photography, music production, and digital media arts. We utilize technology in this capacity as a learning tool to equip our campers with a new skill set to use when they return home.
In a world where technology does so much for us that campers often don't need to think for themselves, America's Finest Summer Camps take this influence out. We allow campers to think. We allow campers to grow. And we allow campers to slow things down, if just for a short few weeks.
"Life moves pretty fast. If you don't stop and look around once in a while, you could miss it."
-Ferris Bueller
At America's Finest Summer Camps, we don't miss it. We live it. All summer. Every summer.