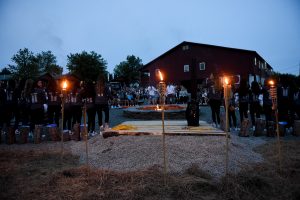 "And how do we keep our balance? I can tell you in one word. Tradition"
Tradition is engrained in the backbone not just in Fiddler on the Roof but also in America's Finest Summer Camps. Camp starts with the Opening Night Show and concludes with the Closing Night Show. There are campfires, singalongs, and color war in between. All of these things happen the same way, every year, each year bringing its own flare. Camp just wouldn't be the same without our long-standing traditions.
But what's better than long-standing traditions? New traditions that campers and staff add to camp each year. While certain traditions may seem like they've existed forever, they had to come from somewhere. One day, a camper or staff member said something, did something or had an idea that blossomed into a yearly tradition. For example, in 2015, we had a counselor who sang a song called "Hey Burrito." This song is still sung every year during swim tests even though this counselor has not returned to camp. The ability of a counselor or camper to impact the entire camp for years to come is what is so special about traditions. Campers come to camp to be themselves. At America's Finest Summer Camps, we value each individual camper. And who knows? Maybe your camper will bring something so unique to camp that we incorporate it into one of our long-standing traditions. The possibilities are endless.