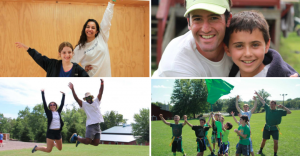 After working a summer at sleepaway camp, it is hard to summarize the vast amount of experience gained in just a few weeks. Over the course of one summer, you are presented with challenges, lessons, an increased set of skills, and numerous other benefits. When you think of a summer spent working at sleepaway camp, the first thing that comes to mind are the times spent on the field helping kids learn how to kick a soccer ball, in the bunk playing jacks with your campers, or at the evening campfires roasting S'mores. Because each of these moments are filled with lifelong memories, it can be challenging to recognize that these moments are extremely applicable in the professional world.
A summer working at camp teaches you how to be responsible, a valued leader, confident, a team player, and a problem solver. The ability to work with people from all different backgrounds and age levels is an opportunity that many people cannot say they have had. Fortunately, in your role as a counselor at sleepaway camp, you have attained skills that are attractive to employers and that are immensely useful in the professional sphere.
Recognizing Strengths and Weaknesses
At camp, you are exposed to a wide range of individuals from around the world. In the bunk, you can live with children from ages seven to sixteen from all parts of the United States. Counselors come from the U.S., the United Kingdom, South Africa and Australia. This unique environment presents the opportunity to understand, connect with, and appreciate all individuals around you. With each relationship established, the ability to recognize the strengths and weaknesses of your peers increases tenfold.
In the professional world, it is of extreme importance to be able to work with people of all different backgrounds and cultures. With each background and culture comes different expectations that must be met if you want to be successful. Working at sleepaway camp gives you the experience necessary to meet these challenges and expectations. Having the ability to recognize what will both facilitate and hinder success is a skill that is invaluable in any profession.
Leadership
As a counselor, each day presents you with the opportunity to develop who you are as an individual and further increase your confidence. Higher confidence enables individuals to make decisions more effectively, have stronger performance capabilities, and deliver a higher quality of work. Both on the fields and in the bunk, you are a coach and a role model to all of the children at camp. Having this opportunity at all hours of the day at camp transforms counselors into empowered leaders with an unprecedented drive for success.
Confidence and leadership both go a long way in the professional world. From applying for a job and mastering the interview to giving a presentation to your boss, having a feeling of empowerment ensures a high success rate in the workplace. 
Communication
Camp is a fast-paced environment where anything could happen. Over the course of the summer, there could be inclement weather, changing preferences of campers, or changes to the daily/nightly schedule. These changes emphasize the importance of being a flexible employee and communicating effectively with those around you. This also leads to high innovative abilities that encourage counselors to excel at camp.
Along with the fast-paced nature of camp, conflicts between campers in the bunk and amongst counselors do arise. The ability to communicate powerfully during times of conflict allow for problem-solving and conflict resolution. Communication helps individuals to find a commonality that will end conflict and bring people together as a unified front.
In every workforce, no matter the department or field of profession, communication is the key to the success of a company. Without communication, deadlines cannot be met and progress will not be made. Learning how to communicate effectively at camp will allow you to enter into the working force with both ease and success.